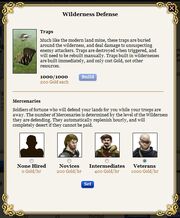 Since July 20th, 2010 you can defend your wildernesses by adding traps or hiring mercenaries.

From the Patch Notes:
Wilderness Defenses!
Lords and Ladies who struggle to keep your
Wildernesses
under control while your armies continue to wage war, fear not! Two factions have stepped forth to aid in your defense: the Trapmaker's Guild has established a new office in Camelot, and Mercenaries are now offering their services to the highest bidder.
Traps can be installed in any controlled Wilderness at a cost of 200 gold per Trap. Other than their different cost and build time, these Traps function identical to Traps that are on player's Walls.
You can also hire Mercenaries to defend your Wildernesses! There are three levels of Mercenaries available – Novice, Intermediate and Veteran, each with varying levels of strength. Mercenaries appear immediately upon hire and bill for their services hourly. If some of your Mercenaries are destroyed, they will automatically refill to full strength the next time you are billed for their services (i.e. hourly).
You can choose to set Traps, hire Mercenaries or both. If all of your Defenses are destroyed, your opponent will gain control of your Wilderness.
Traps
Traps are bought at 200 Gold each. Traps are destroyed when triggered, and will need to be rebuilt manually. However, they have the advantage of being able to be built immediately. The number of traps you can have depends on the wilderness level (100 per wilderness level, e.g. 600 traps for level 6)
Mercenaries
Mercenaries are soldiers who will defend your lands for you while your troops are away. They do not consume food but need to be paid with Gold. You can hire three different types of mercenaries: Novices (200 gold/hour), Intermediates (400 gold/hour) or Veterans (1000 gold/hour).
Novice Mercenaries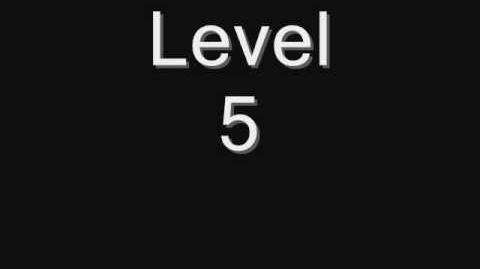 | Wild Level | Militiamen | Scouts | Pikemen | Swordsmen | Archers | Cavalry | Heavy Cavalry | Ballistae | Catapults |
| --- | --- | --- | --- | --- | --- | --- | --- | --- | --- |
| 1 | 60 | 10 | 10 | 30 | 0 | 0 | 0 | 0 | 0 |
| 2 | 26 | 20 | 28 | 146 | 0 | 0 | 0 | 0 | 0 |
| 3 | 84 | 30 | 54 | 162 | 0 | 0 | 0 | 0 | 0 |
| 4 | 68 | 40 | 252 | 80 | 0 | 0 | 0 | 0 | 0 |
| 5 | 60 | 50 | 65 | 375 | 0 | 0 | 0 | 0 | 0 |
| 6 | 162 | 60 | 234 | 204 | 0 | 0 | 0 | 0 | 0 |
| 7 | 77 | 70 | 105 | 518 | 0 | 0 | 0 | 0 | 0 |
| 8 | 368 | 80 | 296 | 136 | 0 | 0 | 0 | 0 | 0 |
| 9 | 198 | 90 | 90 | 612 | 0 | 0 | 0 | 0 | 0 |
| 10 | 440 | 100 | 110 | 450 | 0 | 0 | 0 | 0 | 0 |
Intermediate Mercenaries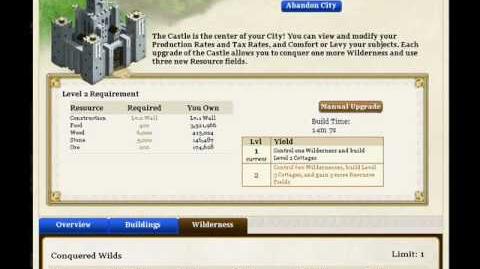 | Wild Level | Militiamen | Scouts | Pikemen | Swordsmen | Archers | Cavalry | Heavy Cavalry | Ballistae | Catapults |
| --- | --- | --- | --- | --- | --- | --- | --- | --- | --- |
| 1 | 0 | 10 | 0 | 30 | 29 | 41 | 0 | 0 | 0 |
| 2 | 0 | 20 | 0 | 92 | 54 | 54 | 0 | 0 | 0 |
| 3 | ? | 30 | ? | ? | ? | ? | ? | ? | ? |
| 4 | 0 | 40 | 0 | 140 | 128 | 132 | 0 | 0 | 0 |
| 5 | 0 | 50 | 0 | 140 | 125 | 235 | 0 | 0 | 0 |
| 6 | 0 | 60 | 0 | 186 | 156 | 258 | 0 | 0 | 0 |
| 7 | 0 | 70 | 0 | 175 | 182 | 342 | 0 | 0 | 0 |
| 8 | 0 | 80 | 0 | 264 | 272 | 264 | 0 | 0 | 0 |
| 9 | 0 | 90 | 0 | 261 | 270 | 369 | 0 | 0 | 0 |
| 10 | 0 | 100 | 0 | 250 | 350 | 400 | 0 | 0 | 0 |
Veteran Mercenaries
| Wild Level | Militiamen | Scouts | Pikemen | Swordsmen | Archers | Cavalry | Heavy Cavalry | Ballistae | Catapults |
| --- | --- | --- | --- | --- | --- | --- | --- | --- | --- |
| 1 | 0 | 10 | 0 | 0 | 0 | 29 | 20 | 51 | 0 |
| 2 | 0 | 20 | 0 | 0 | 0 | 34 | 102 | 64 | 0 |
| 3 | 0 | 30 | 0 | 0 | 0 | 75 | 48 | 177 | 0 |
| 4 | 0 | 40 | 0 | 0 | 0 | 116 | 116 | 168 | 0 |
| 5 | 0 | 50 | 0 | 0 | 0 | 80 | 120 | 300 | 0 |
| 6 | 0 | 60 | 0 | 0 | 0 | 138 | 282 | 180 | 0 |
| 7 | 0 | 70 | 0 | 0 | 0 | 189 | 301 | 210 | 0 |
| 8 | 0 | 80 | 0 | 0 | 0 | 144 | 120 | 536 | 0 |
| 9 | 0 | 90 | 0 | 0 | 0 | 225 | 324 | 351 | 0 |
| 10 | 0 | 100 | 0 | 0 | 0 | 220 | 270 | 510 | 0 |