Gifts are free items available in Kingdoms of Camelot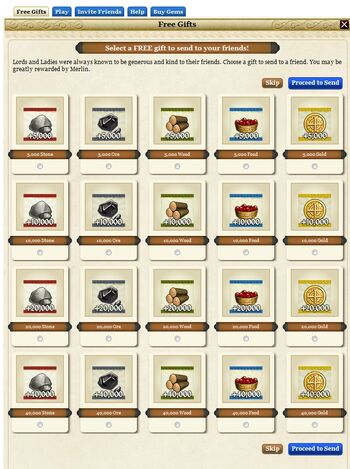 Who Can I Gift To?
Gifts can be given to anyone whom you are friends with on Facebook. This includes both players and non players.
'''NOTE''' You should send Gifts to KOC players (Yours friends who are already playing this game).
What Can I Gift?
Currently, there are two types of Gifts in Kingdoms of Camelot. They are:
Resources: which can be given in increments of 10k, 20k, and 40k, based on your level. The order for unlocking these gifts in Stone, Ore, Wood, Food, then Gold
Gift of the Day: in the March 20th patch, Gift of the day was added. this allows players to send a random shop item to a friend once per day. However, a player can only accept one of these gifts per day. Note: at this time, all items given as "Gift of the Day" have had a value of 8 gems. Note there have been examples of special gifts eg on and around haloween the gifts "Banner of Darkness" and "Hallowed Curtains" were available for a short amount of time
Reasons for Gifting
Gifting Resources unlocks the bottom ten items in Merlin's Magical Boxes.
The Gift of the Day allows your friend to gain an item they may not want to spend the gems on.
The resource gifts are a welcome boost to new players as 40k (or 20k) resources can make a big difference at the beginning.