(Adding categories)

 

Line 17:
Line 17:
 

*<span class="label" style="font-weight:bold;line-height:normal;font-family:Georgia;">Skills</span> <span class="value" style="line-height:normal;font-family:Georgia;">+10% Attack against Dark Forests</span>

 

*<span class="label" style="font-weight:bold;line-height:normal;font-family:Georgia;">Skills</span> <span class="value" style="line-height:normal;font-family:Georgia;">+10% Attack against Dark Forests</span>

 

[[Category:Troops]]

 

[[Category:Troops]]

 
+

[[Category:Ranged Troops]]
---
Latest revision as of 10:26, 7 July 2015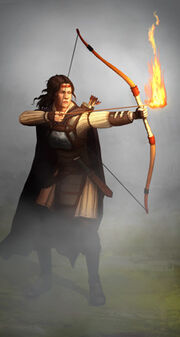 Flame Archers are a new unit in Kingdoms of Camelot. Flame Archers are adept at slaying troops from a distance. Their bows use Pristine Yew Branches, which are found in Forests and Dark Forests. Their flame-tipped arrows wreak extra damage when attacking Dark Forests.
Training
Flame Archers are able to be trained as of early 2013. You can train them in any city with a level 11 Barracks, but they require Pristine Yew Branches to make. One Branch makes one Flame Archer, and you get them as drops from Woods and Dark Forests
Stats
Attack 1700
Speed 140
Defense 40
Range 1600
Life 800
Load 50
Upkeep 150
Type Ranged
Skills +10% Attack against Dark Forests
Community content is available under
CC-BY-SA
unless otherwise noted.